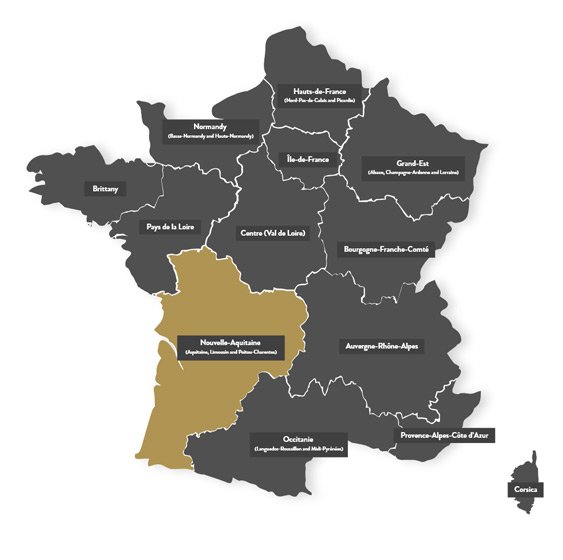 Ah, Nouvelle-Aquitaine! Home to Aquitaine, Limousin and Poitou-Charentes. This is quite possibly the ideal wedding destination for any happy couple.
Aquitaine is home to Bordeaux and it is more than possible for you to get married near to the breath-taking Dordogne, or even near the Basque Villages. This is along the Spanish border and there is so much for you to see and do. The hot springs that are in Nouvelle-Aquitaine are not to be missed and this is great if you want to pamper yourself after the big day. Poitou-Charentes is on the Atlantic Coast and the sandy white beaches are culturally stimulating ad the most beautiful location to get married in France. Famous for its beautiful architecture as well as its incredible food and wine, This region has it all. Castles from yesteryear adorn every hilltop and the region is a must for anyone who enjoys their food. Local specilaities include truffles, foie gras, prunes and of course wine, so every wedding will be full of amazing cuisine and your guests will not be disappointed. If it is the classic French chateau that you are after for your wedding in France then you have to conside Nouvelle Aquitaine and the surrounding areas!
Of course, you also have the Marias Poitevan wetlands, and this is not to be missed either. You can get to this area via train and flights also run to this area as well. This is easily one of the most beautiful areas for wedding venues in the whole of France and the activities there include horse riding, wine-tasting and relaxing on some of the sandy shores. The region features many destinations with cultural and touristic significance locations like the Citadel of Blaye, Saint-Emilion, La Rochelle, Aquarium, Arcachon and the Dune du Pilat. All of these areas have a rich historical background that could be considered when choosing wedding venues in the region. Nothing can quite compare to the experience you will get when you visit this location, and it is one of the best places for you to say those special words, "I Do!".