The Best Photography Locations in Paris for 2023
Written by Ian Holmes Photography
January, 2023
We are delighted to feature this amazing blog written by Ian Holmes about the best photography location in Paris! It is a very imformative blog with all the details you could ask for. If you are getting married in Paris or would like to have an engagement shoot in Paris then this is the blog to read!
Looking to return home from your Paris trip with the most beautiful set of photographs? Here's Ian's list of the best photo spots in Paris, along with some tips on working out an itinerary to maximise your photoshoot time.
A common error when planning a photoshoot is to try and fit in too much within an allocated time frame. This creates a rushed, stressful feeling experience, the very thing I do my utmost to avoid. Your Paris photoshoot should be a fun, relaxed, stress-free experience, actually, it should be one of the highlights of your trip.
I recommend working around a single location per hour of shooting time. Why? Well, this allows us to thoroughly explore each area, seeking out all those interesting little corners that can help make your photos a little different and more personal. It's surprising what a varied set of images we can produce in a single location when we really begin looking. Also, it means less time traveling! Looking through a Paris guidebook or at distances on google maps, you may be pleasantly surprised at how small the city actually is. However, from around 8 am onwards many of those photogenic, narrow streets are often gridlocked with traffic, meaning without careful planning you can easily spend the majority of your time sitting in traffic.

I create an itinerary, together with you, which ensures we'll the majority of our time together creating beautiful photos and minimum time stuck in traffic, so without further ado…onto the locations!
Ile Saint-Louis
Up first Ile Saint-Louis, the oldest part of the city, think shady narrow streets, a stroll on the cobbled quayside, bridges with views over Notre Dame, very classic Paris with beautiful, old architecture.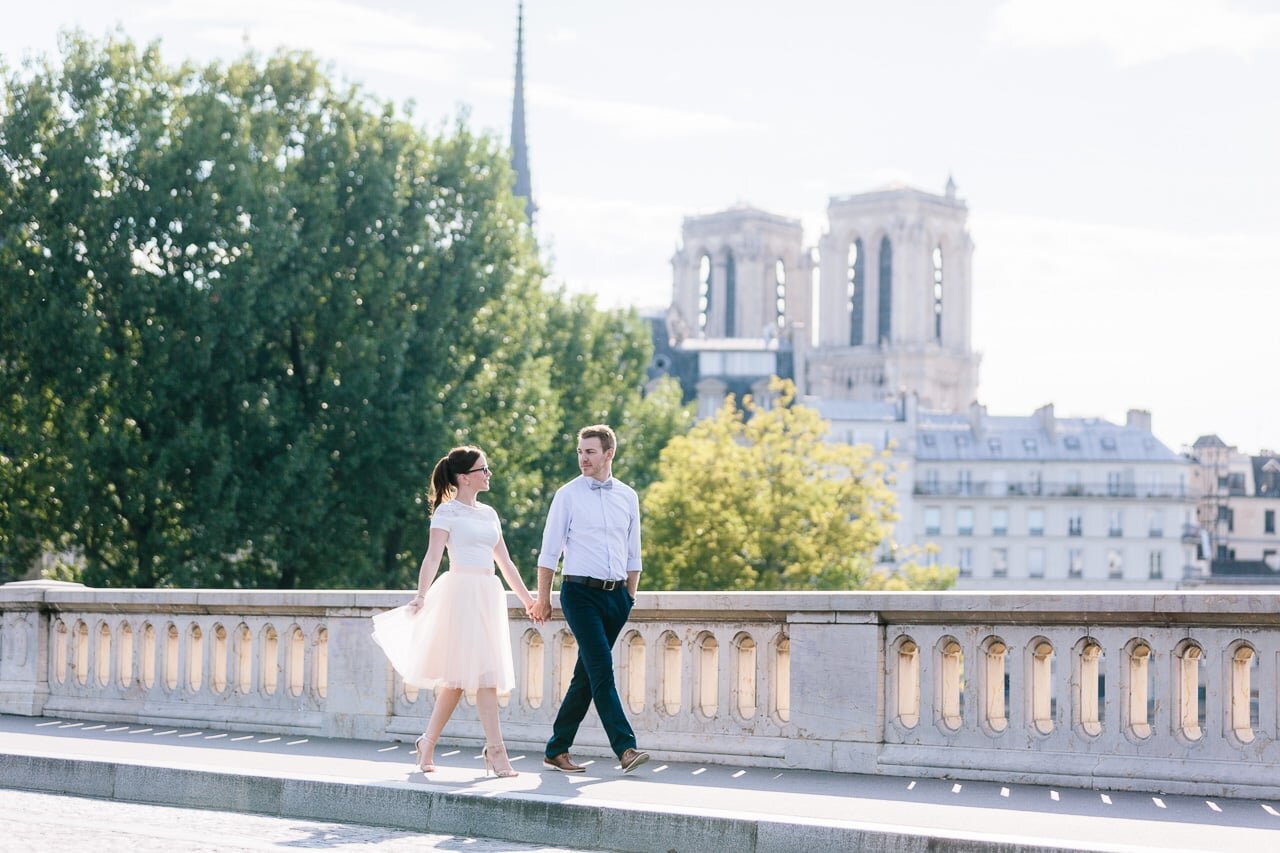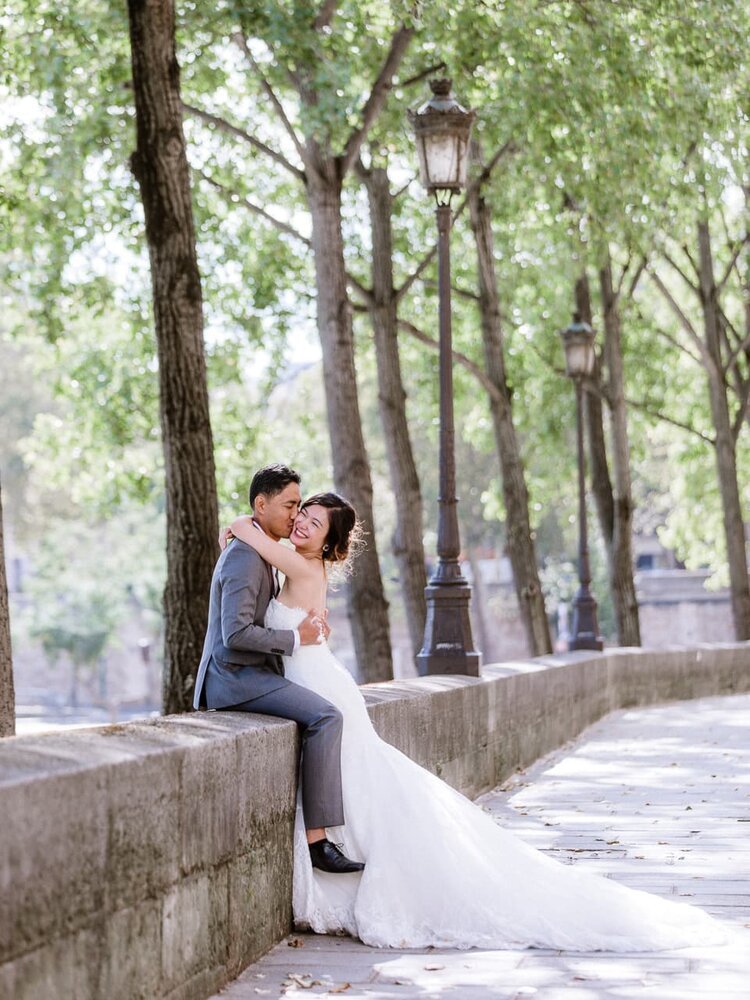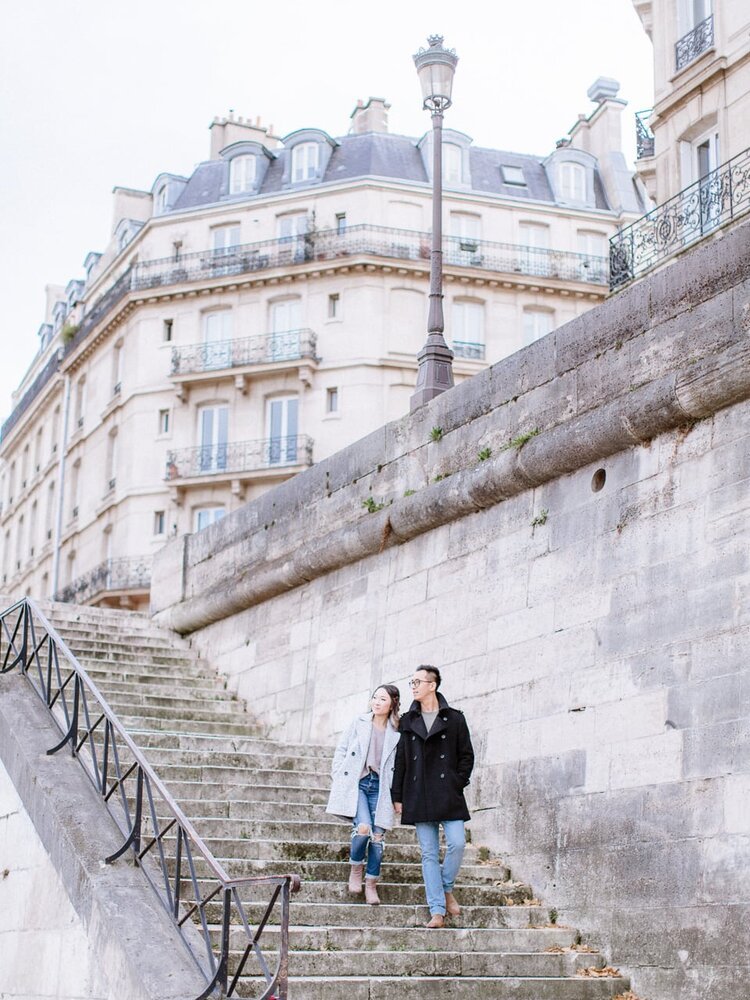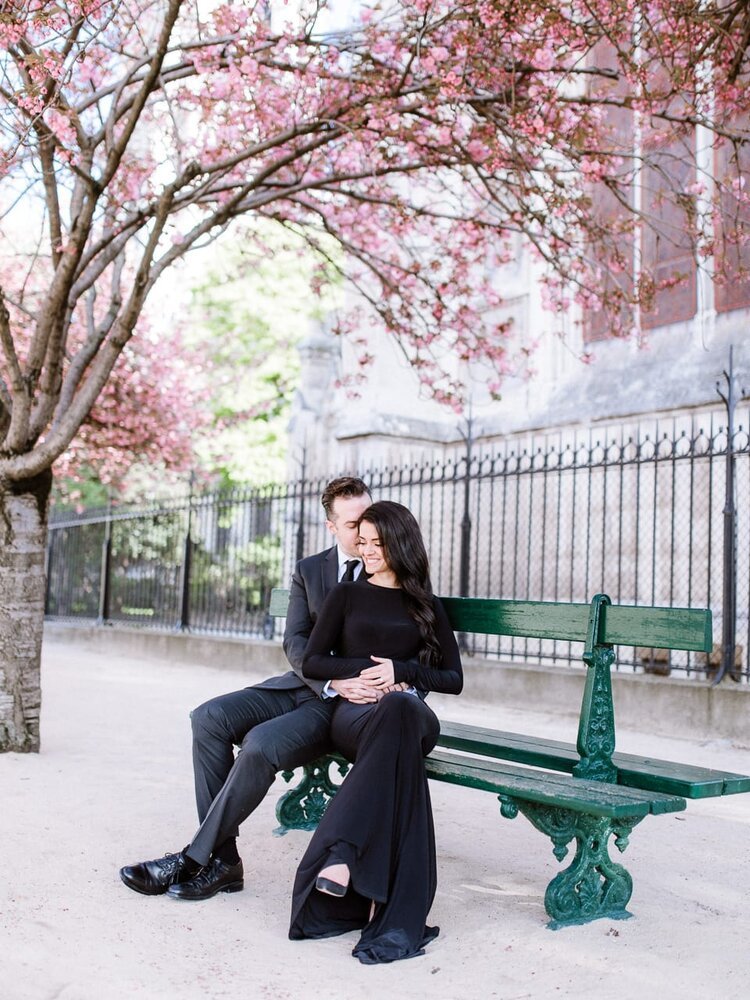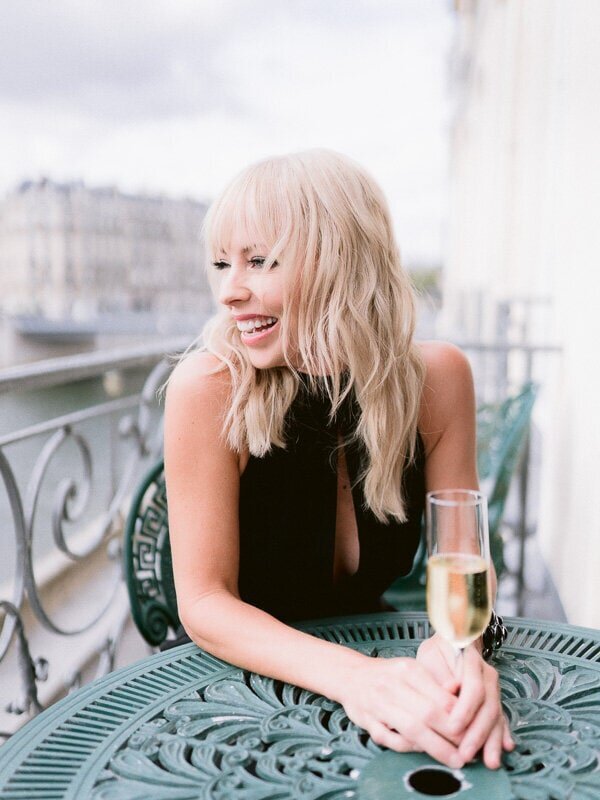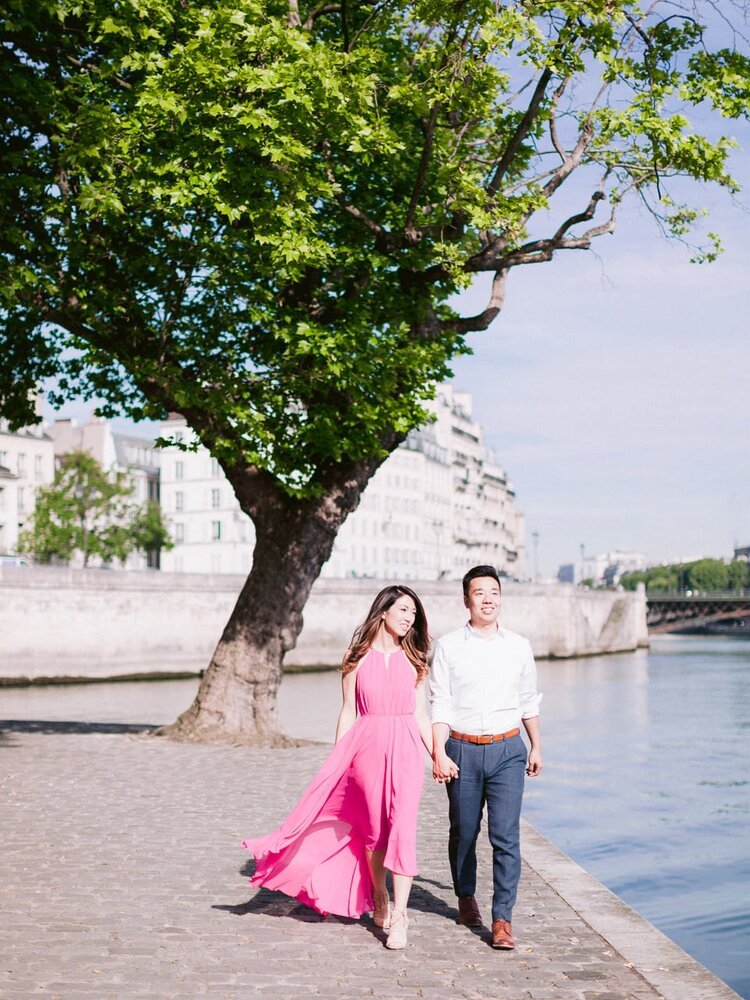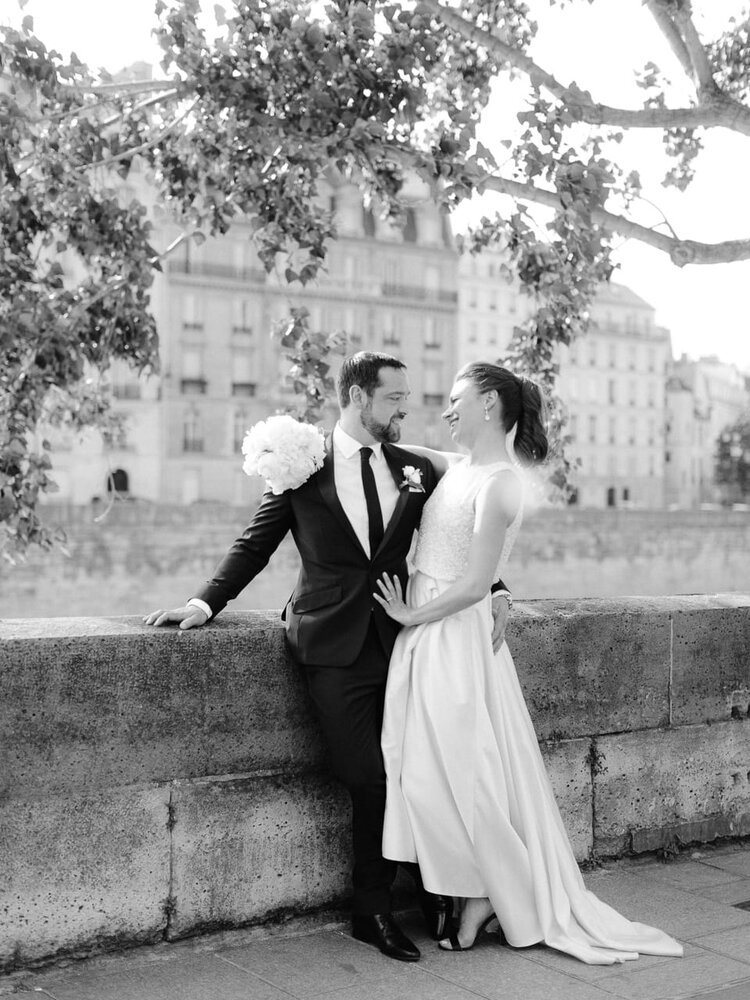 Ile Saint-Louis Location style tips
Ile Saint-Louis along with its narrow streets and numerous café terraces can be a great location to show off a more smart, casual style. Ladies, those flowing dresses can look magnificent in the breeze down on the quayside.
---
The Louvre
Secondly the Louvre and the surrounding area, a stunning French Chateau right in the centre of the city. Mix things up with some images on the edge of the Tuileries gardens with time to take a stroll into the neighbouring Palais Royal, this is one of my favourite areas. Incredible architecture, covered passageways, open gardens, and extremely pretty light, ensure an amazingly varied set of images. Plus because of the covered arcades and grand entrances this is a great location in less than ideal weather!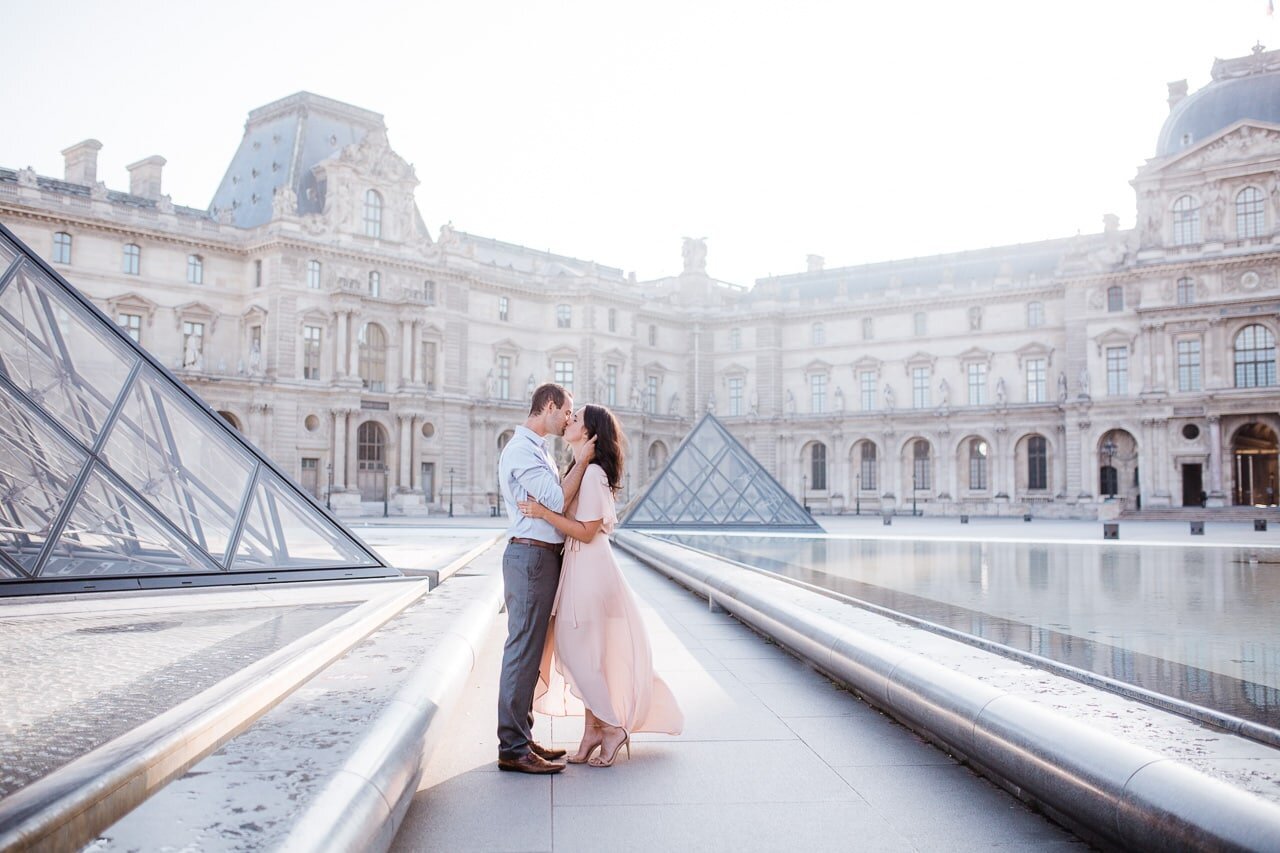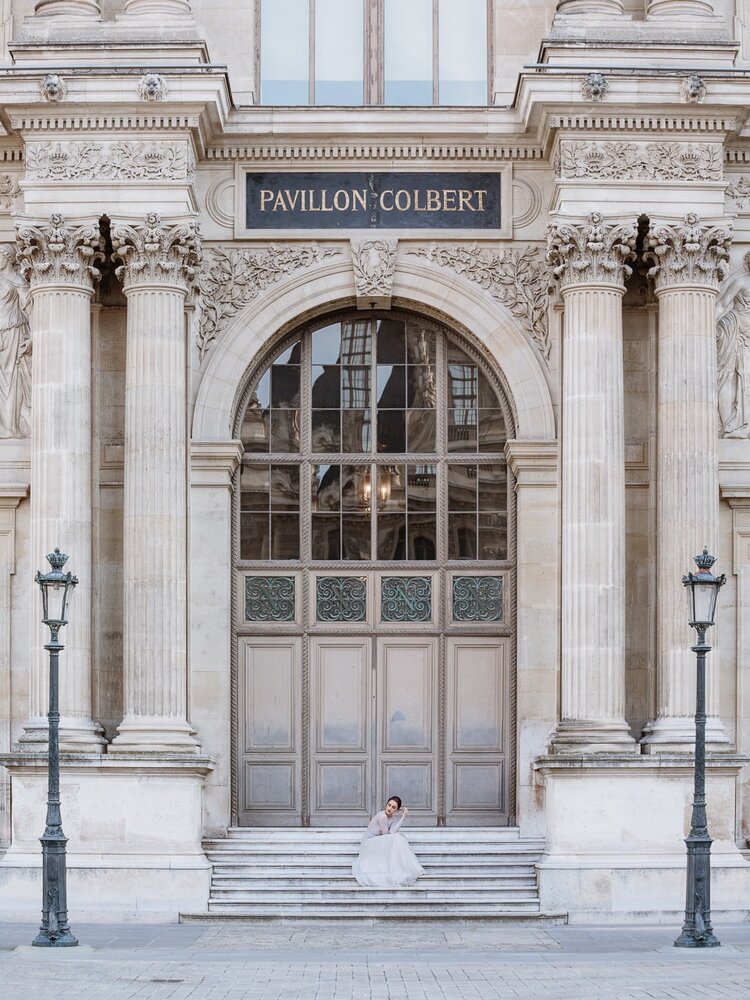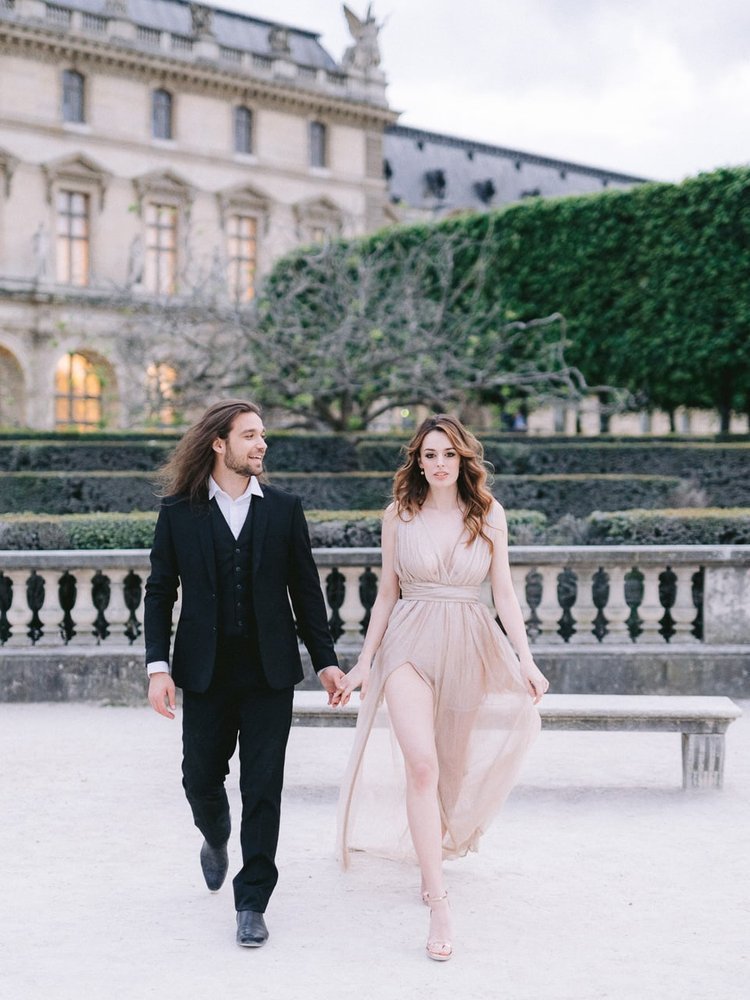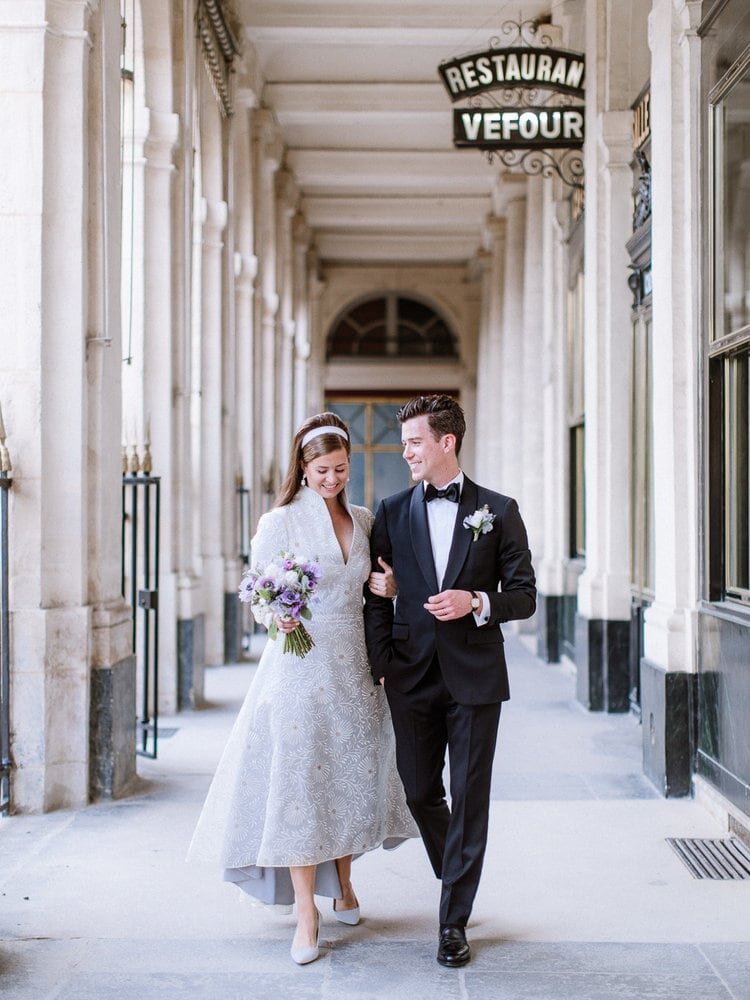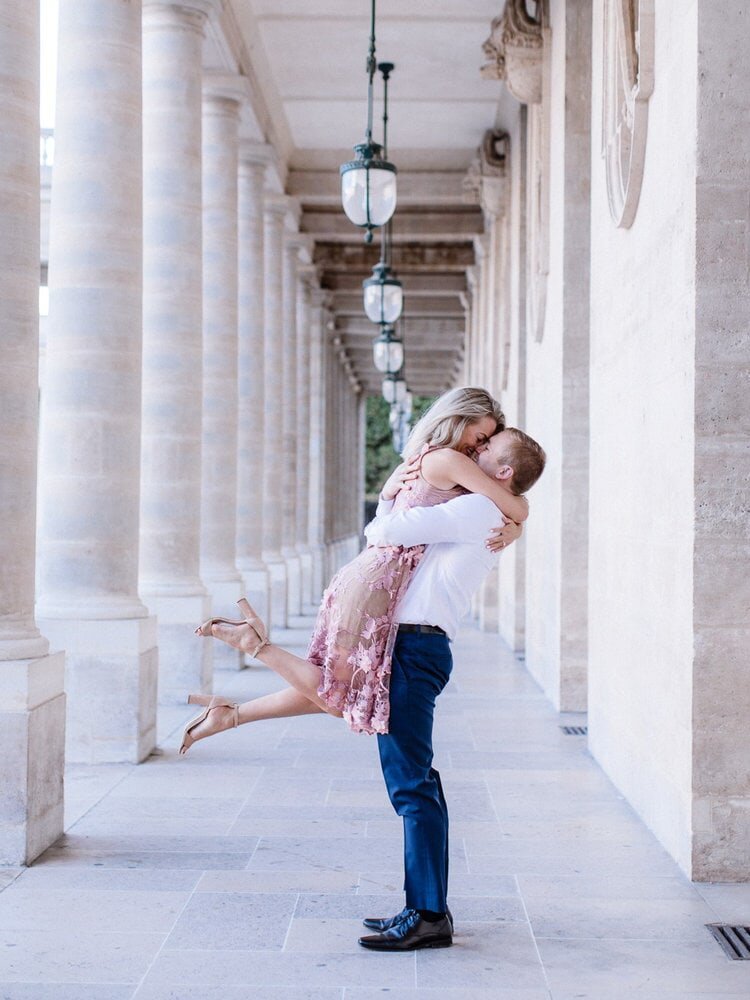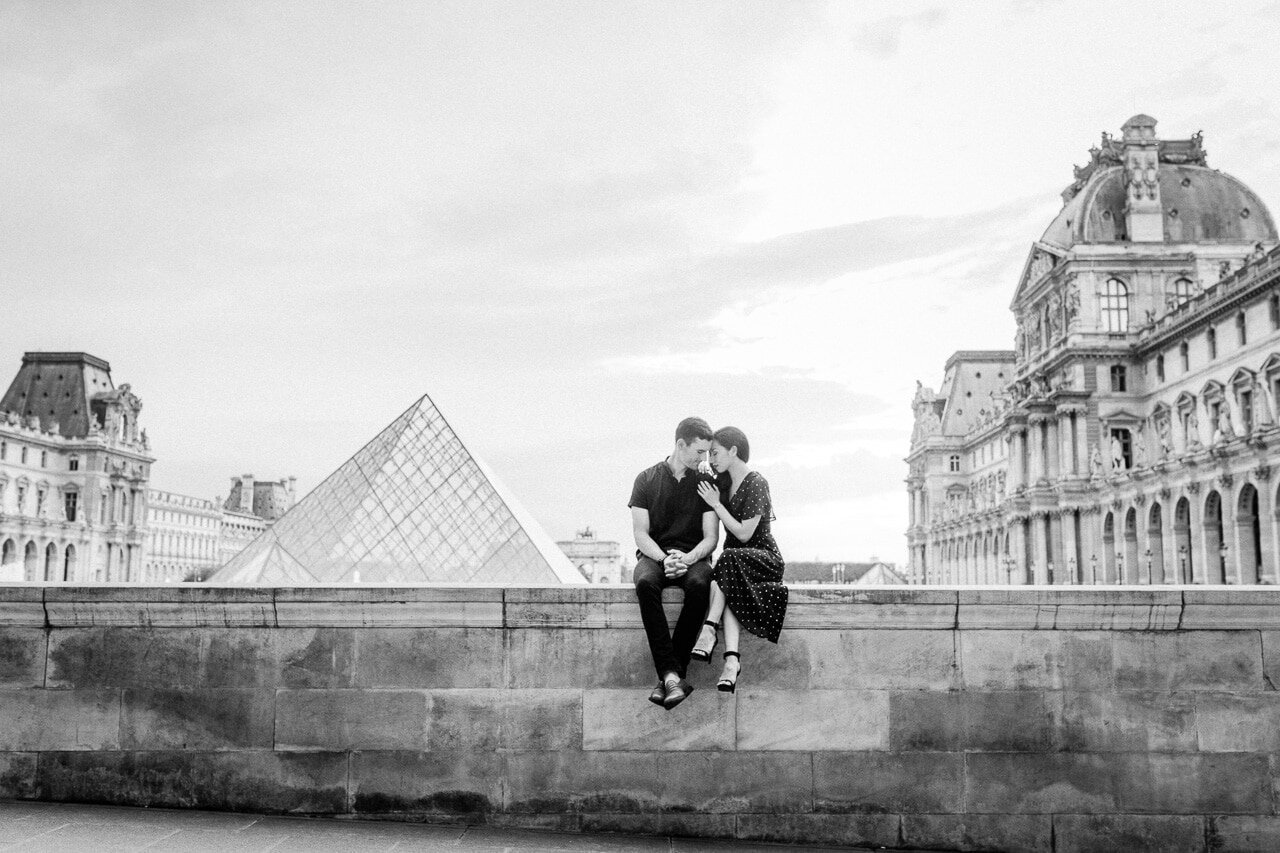 The Louvre Location style tips
Starting off with the neighbouring Palais Royal, a more casual outfit for strolling through the arcades and gardens works wonderfully. For the Louvre itself, which is a stunning Chateau in the center of the city, you can really pull out the stops with a dressier outfit, it's pretty much impossible to look overdressed when being photographed in the magnificent surroundings this location has to offer. If the timing of your shoot allows, think of mixing two different styles at this location - one more casual around the Palais Royal and something dressy for the Louvre courtyards.
---
Pont Alexandre III
Extravagant, ornate with certain shots offering great views of the Eiffel Tower in the background, Pont Alexandre III has to be one of my favorite bridges in Paris. Different angles give us a lot of options for the photos, plus the nearby Petit-Palais and its stunning architecture give an equally opulent feel with an entirely different look.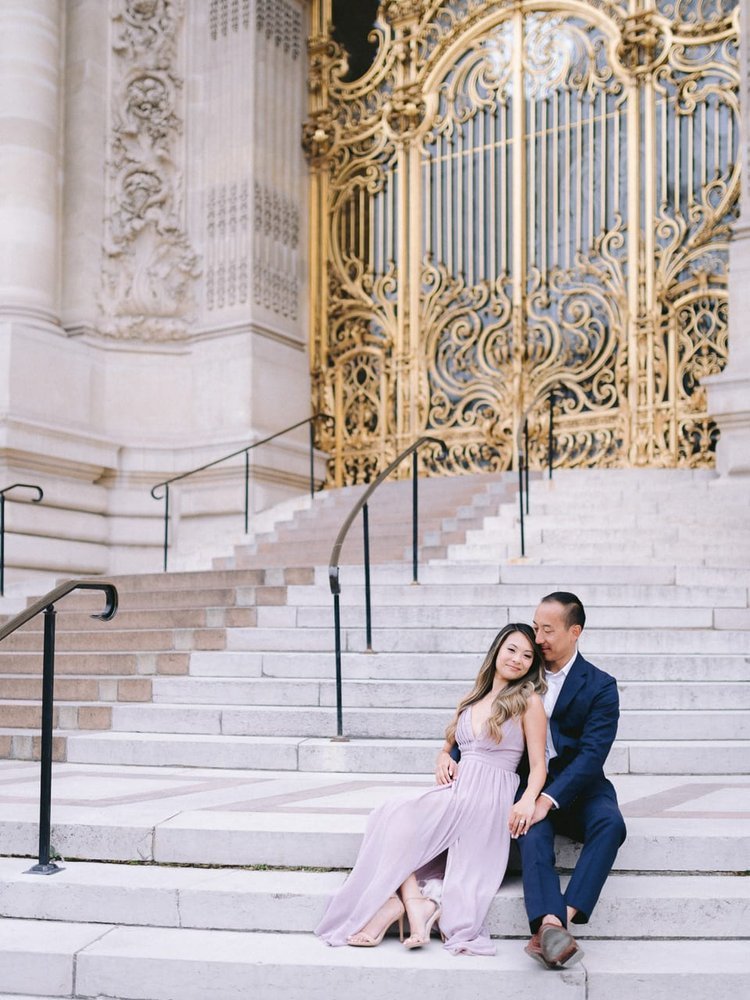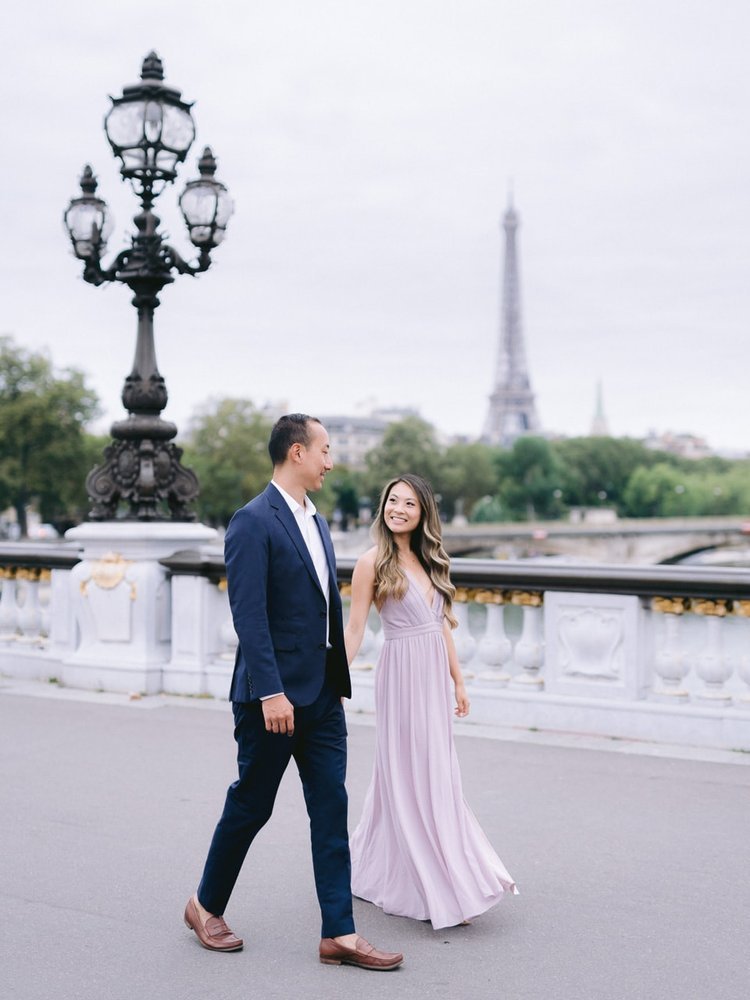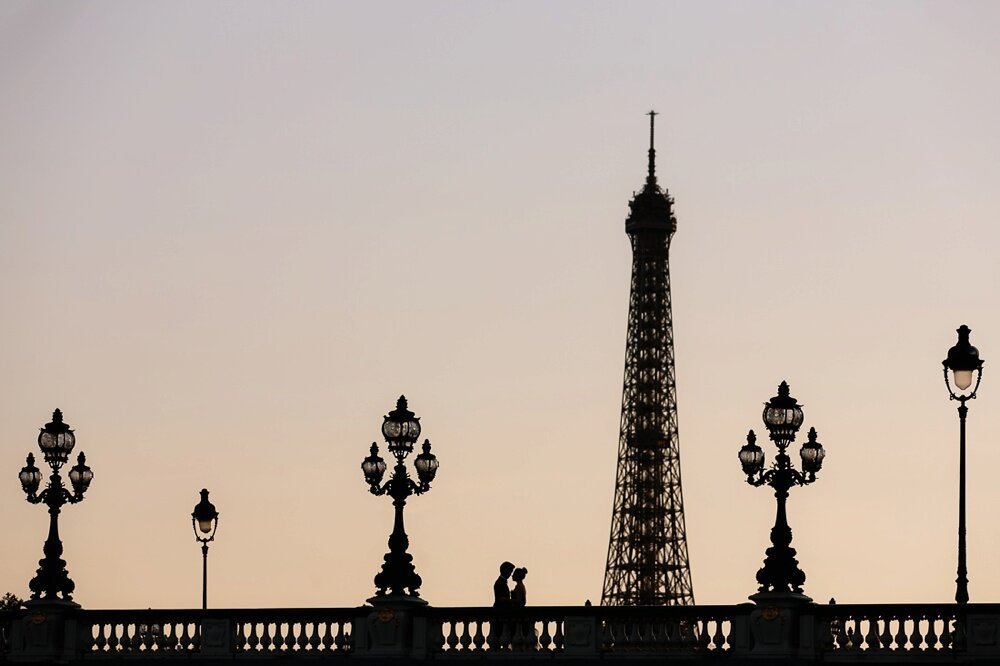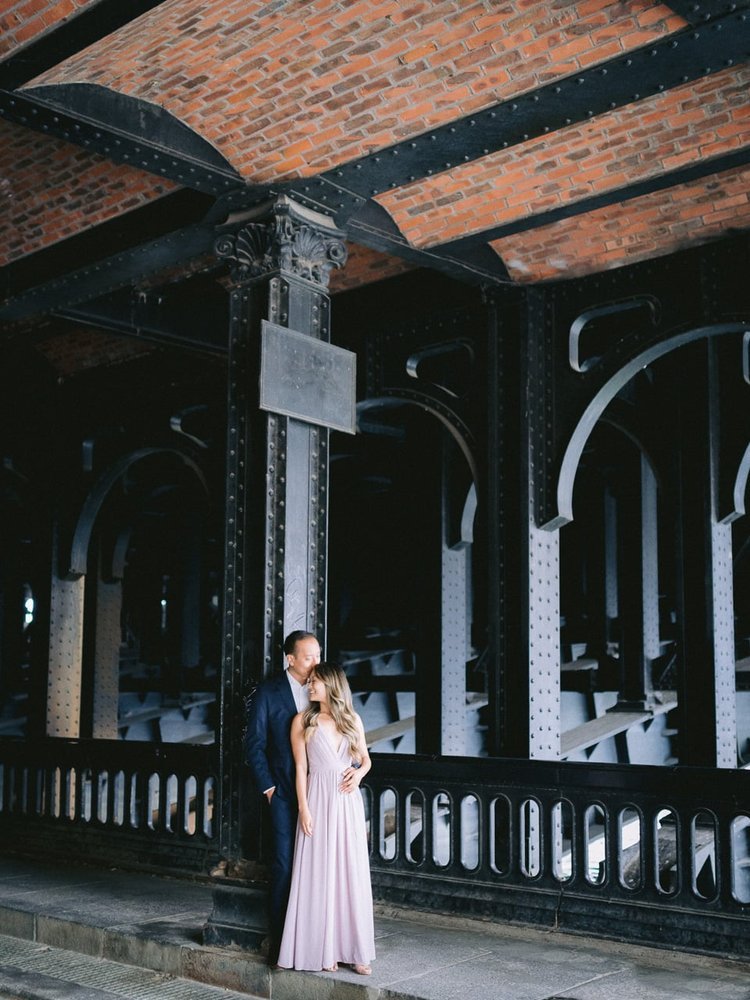 Pont Alexandre III style tips
Feel free to really glam things up at this location. As mentioned above, the bridge is one of the most extravagant in the city, mix that with the nearby Petit-Palais, and its grand, gold-gilded entrance, you have a location where you can pull off the most stunning designer gown/suit with ease.
---
The Eiffel Tower
Finally of course how can we forget - The Eiffel Tower! We have several locations to choose from all offering great views, however, please note the area of Trocadero is only available for sunrise shoots.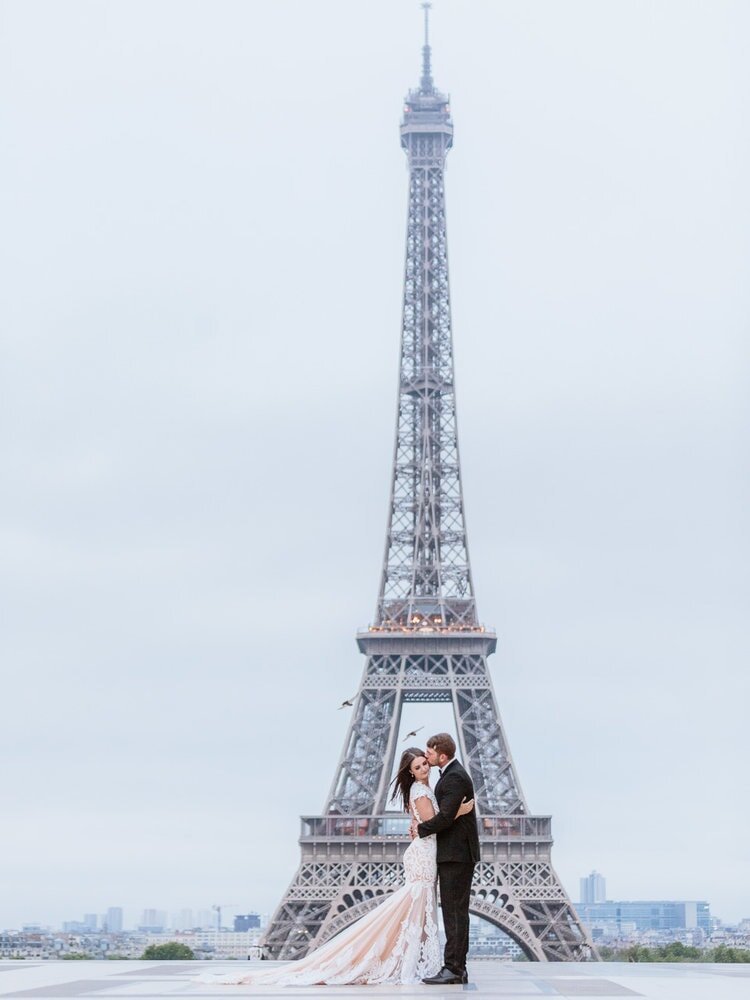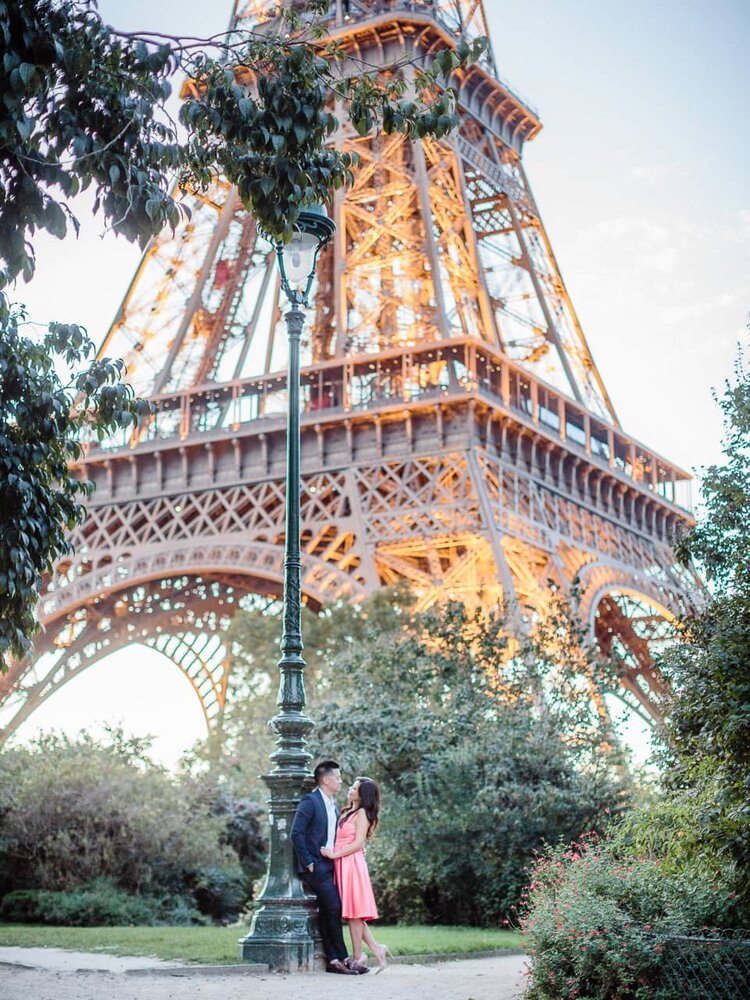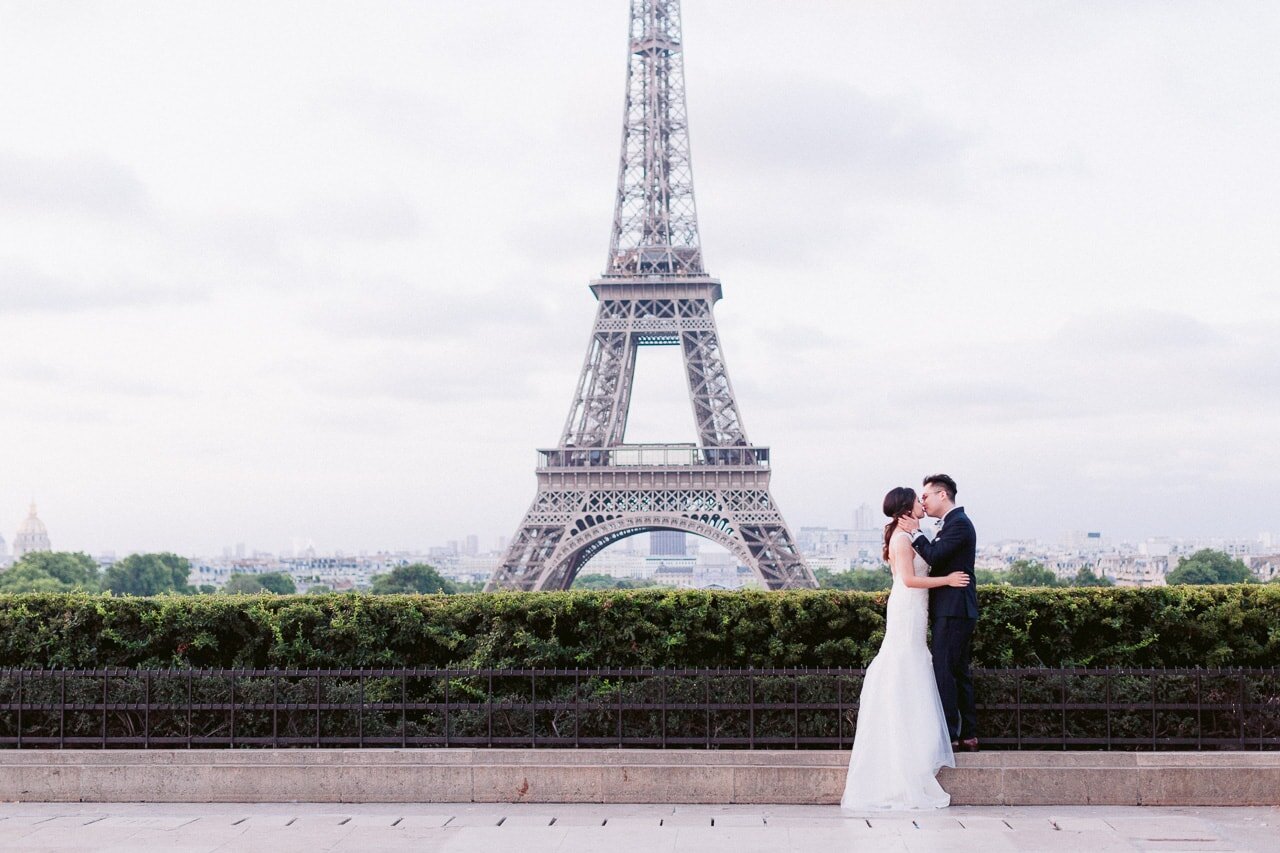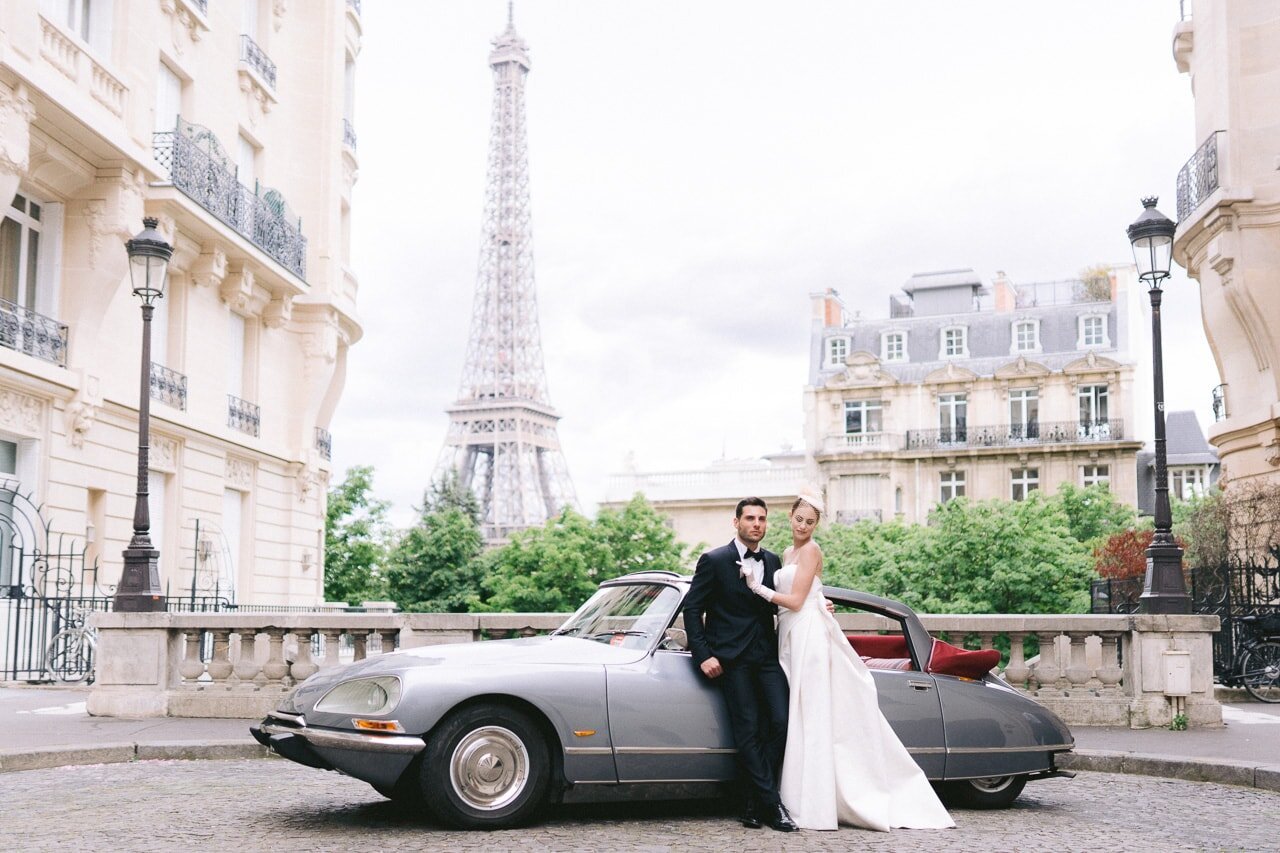 Eiffel Tower Location style tips
The Eiffel Tower area is extremely versatile when it comes to wardrobe choice. The main Trocadero area really suits a more dressy outfit. You can easily pull off that designer gown and sharp suit here. The nearby bridge, Pont Bir-Hakeim is one of those locations where both dressy and casual work equally well. There's often a breeze on the bridge so those flowing dresses can look amazing. The gardens behind the Eiffel Tower being more suited to a casual look.
---
As you can see in Paris you are spoilt for choice. All options offer a beautiful set of photographs and as the images above show, for both morning and early evening shoots we can make each location appear that you pretty much have the city to yourselves.
A massive thank you to Ian Holmes for putting together this blog for us to share with all our lovely couples wanting to get married in France. Looking at all these photo locations makes me want to get married again just to capture some of these beautiful locations in the city of love!
We hope this is useful information when it comes to your wedding in France. For more information and to book with Ian Holmes Photography please click here.
The French Wedding Team
x